Archive for the 'JV Giveaway Events' Category: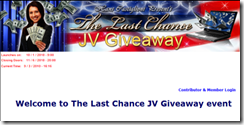 Hans Castiglioni is the Promoter of The  "The Last Chance JV Giveaway" that will Open it's doors on October 1 st, 2010 at 9:00 AM EST.
This IM Giveaway will offer free gift products in the form of a digital download product (like ebook, audio, video, software, how to video etc) to
it's members.
One twist to this event, is that all products must be PLR, have resale rights, or master resale rights.  This should give any internet marketer a hard drive full of products to offer as bonus items or one-time-offers.
The site, at this time is only allowing contributors to join, but if you have any resale rights products, then you should be able to build a decent size list from this event.
It's worth taking the first one-time-offer that appears, because you will then have access to the direct link to download all the products without having to go though squeeze pages first, plus it gives you more points, allows you to offer more products, and many many other benefits.
Here is a special link to the VIP join page:
Last Chance JV Giveaway – Click Here to Sign Up
The Happy Halloween JV Giveaway Event is in pre-launch and is accepting JV Partners (contributors) to contribute
The event is set to officially launch on September 30th, 2010 and will Close it's doors shortly after midnight on Halloween Eve.
This event will allow contributors to submit one gift without buying points, however the points and upgrade rates are very minor.  Any  marketer should be able to make his money back on anything spent plus wind up with a nice size opt-in list.
Below Is The VIP Link:
 
Click Here to Sign Up with the Happy Halloween JV Giveaway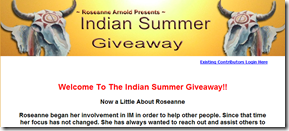 This is a quick and easy JV Giveaway Event by Rosanna Arnold, a grandmother, who is working with Jeffrey Palladino on this event.  And they will allow you to contribute a product with zero points.
It's worth checking out, but it's also worth paying to upgrade.  Take the OTO to upgrade.  It's the lowest I've ever seen, and you can list a lot more products, run your own OTO's, split profits, etc.  It's a real bargain.
The site is "by Invite Only" but again, I have made arrangements for a promo code for you.
Join the Indian Summer JV Giveaway – Click Here Now!
Contributor Invite Code: MarketingMayhem 
 
There is only a few days left to get your products in and start building you list.